Here at Allison Ramsey Architects, we understand that we are built a little differently. We think about houses and buildings almost nonstop. We all work a bit too much; we think about designing during most of our waking hours. We spend a lot of our time working with clients, drawing, communicating, and problem solving. When we get a chance to focus our attention, it's often on bigger picture issues. We wrestle with a comment or an issue we bumped up against recently. Earlier this week I found myself making an argument about why we are big proponents of detaching the garage from the house. This made me realize that I have made this argument many times to clients. I do not always win, but a big part of what we do every day is to educate our clients and the public as much as possible about best practices in design.
What are you talking about?
It most places around the country, homes are designed with the garage "attached" or connected directly to the heated living areas. This has become the norm, but it is a recent development in home design. Prior to the 1950's, the garage was a separate building; "detached" and completely separated from the house. Owning a car was a new privilege or previously nonexistent, so neighborhoods were designed for the human experience, not "auto-centric" (all about the car). The idea of a space so utilitarian, dirty, and unwelcoming, being attached to your kitchen was out of the question. These spaces were accessed from an alley or a lane in the rear of the property when more urban, or the structure was treated as a secondary or tertiary stop once arriving at a home when more rural. Unfortunately, we now ride through neighborhoods that have garage masses, garage doors, and driveways as the biggest expression at the street. The front door, which used to be the focus, is now hidden in the shadow of the garage. The driveway has taken the place of the walkway from the street. The sidewalk at the street, if there is one, is riddled with curb cuts and driveways. The car has had an amazing effect on where we live.

What is Allison Ramsey Architects proposing?
We take the more traditional approach. Surprised? Probably not! We generally will propose two separate structures. We do this for a few reasons. Some of which I have hit upon, but there are still others.
Massing and proportion of the home – The scale of a space holding two or three cars is very different from a room for two people. The garage simply is a bigger creature to handle. It will out-mass the home quickly. Add a bonus space above and this is a big structure. Add 24 feet of concrete leading to it from the street and there is no real way for the house to compete with the garage.
Overall expression of the home – We want the front door and/or porch to be welcoming, human-scaled, and inviting. We want the big first impression to be the house's form and massing; a simple yet pleasing shape. We want the house to be approachable when you see it. This is a much harder sell when we put "all business" up front.
Flexibility – When the garage is detached, it opens up many possibilities for site planning. Creating outdoor spaces between structures and providing privacy in the outdoor spaces as well as screening views of surrounding houses. Flexibility in design makes a more thoughtful and creative solution possible. Flexibility adds value to the overall home too.
Safety – Cars, gas, yard equipment, tools; do you really want these things right beside or below your master bedroom or family movie night? The majority of us keep hazardous materials as well as the cars themselves in a garage, and it's more likely to pose a health issue in your home when the two buildings are attached.
Air Quality – Gasoline, Fertilizer, lawnmower, chemicals, etc. When you open that door to the house you are not the only thing entering your living space. Why take the risk?
ADU possibilities –accessory dwelling unit adds value to your property. A separate flex space, office, or apartment rental can all add value. Perhaps even some income. Again, separating the garage from the house adds more value.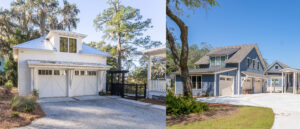 What about the weather?
Yes, we get it. We are currently designing houses for locations all over the country but mostly in the Southeast. As we grow into other regions we are having to adjust to some new input. Rain has always caused some resistance when detaching a garage. Nobody likes to be in the rain. Except maybe in romantic movies. Rain is easy. Snow, cold, and wind is a bit harder to address. We want to work with our clients to get the best solution for all of these issues.
So? Always detached?
No, there are not many "always" or "nevers" in architecture. This is one of the big reasons we wrestle with having to adhere to Architectural Controls and Review Board rules. Sometimes sites are limited for space, a neighborhood has an existing pattern of house/garage development, or sometimes the homeowner/client will not accept an unconditioned or uncovered connection from house to garage. It is OK, this is why there is no single home design for everyone. We're happy to work with our clients to get the best option for their needs. Our HouseMatch tool on the allisonramseyarchitect.com website is all about finding the perfect plan. One of the questions it asks is "Does your garage need to be slammed into your house?" The responses you can select have always stuck with me. "No, I've been wet before" or "I don't care?" or "Yes I sleep with my car".

What are the answers?
There are many ways to connect a house and garage if it is necessary, but they all have one thing in common. We want the garage and roof mass to read as a separate entity. We do not generally want the garage to be shoved up against the house and two big roofs to bleed together. The goal is to have the expression of the two distinct masses– not colliding but having their own defined identity. We typically treat this connection in two different ways.
A simple breezeway – Providing cover from the sun and rain is a very common request. We typically offer a simple roof that is a lower pitch and sometimes even looks more like a trellis or arbor structure. This is not very noticeable from the street or by visitors. It is not intended to grab attention.
An enclosed but compartmentalized connector – the next progression of this connection is a fully enclosed and heated/cooled space. This is typically treated with windows and trim and a small amount of siding. We want a bright and light space that serves as a protected area, is a simpler mass than the house or garage and very secondary or tertiary in the overall hierarchy of the roof forms. This connector is always narrower than the garage but still may house a laundry room, mudroom, pool bath, or drop zone. We are always thinking of function and efficiency.
As usual, when sitting to write these articles they start out as a bit of a rant. When I set out only the subject is known, but the ideas become clear to me as I slowly type. As the thoughts flow, they always seem to soften a bit. The thought of no "always or nevers" really may be a new realization that has made it into my head today. Any architectural rule or concept has its exceptions. The client drives the design process to where it ends. They may let us steer and/or navigate but in the end we strive for the "coffee shop sighting" in which they tell us that they love their new home and that it works perfectly for them and how they live. This is where we find our satisfaction.
As always, your input, ideas and additional topics are always welcome, it does not hurt my feelings if you have feedback. I love to hear from you. It makes me a better designer and a better Architect. Maybe even a better person!
Thanks for reading.
Bill Harris
Architect – Principal, Allison Ramsey Architects, Inc.
[email protected]