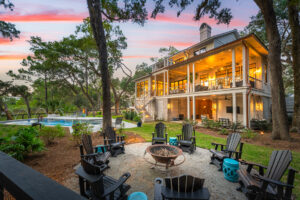 Does your Home show your personality?
One of the reasons we raise our heads from our desks here at Allison Ramsey Architects is to analyze some of our finished projects as well as projects of other designers here in the Lowcountry and all over the Southeast. We give extra scrutiny to our homes and neighborhoods more than we do of other Southern Living or New Urban Guild designers. If you are an architectural nerd, then this is great fun! I was recently participating in this process with a non-architect while walking through Habersham, South Carolina and getting some fresh input on the subject. A thought popped up in our discussion that I found worthy of sharing.
It is interesting how each home expresses the personality of the owner.
What? How? What do you mean?
We've all been there, whether drooling over the Coastal Living and Southern Living Magazines, Pinterest and Instagram posts, or taking photos of charming homes that inspire us, we have all had dreams of the perfect home design, décor, and landscaping. When a new home is built, purchased, or rented and someone moves in, they will often bring touches of themselves to their new place in order to fulfill that satisfaction that it's now theirs. There are a few layers to this personalizing touch. The simplest and most obvious way to see this expression of personality is the outward decorative touches. A college team flag, seasonal decorations, yard art, planters, or even a fun sign. These are typically the first noticeable personal changes to the home and thus to the street.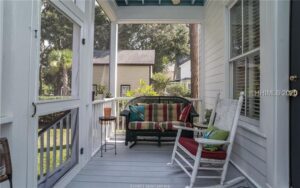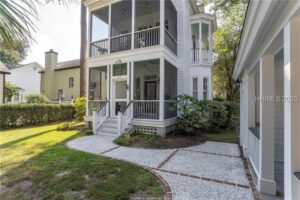 Photos from Legare Plan C0221
The next level of personalizing the house is how the exterior spaces are used. It's easy to see the different choices here in Beaufort because there is often at least one porch facing the street. Is it furnished and comfortable? Or proper and sparse? Are there rugs and lamps and curtains? Or just a couple rocking chairs? Does the front yard have items that might create a special little place? A swing or a small bench under a tree? There is no right or wrong here, and that's the beauty of it. Your landscaping, decorating, and furnishing choices describe your personality and your take on life. It describes who you are and what you prioritize. Perhaps even where you are from.
The third level of showing your personality through your home is the actual architecture. This is the part that we are most interested in. This is the part we work on every day. Typically, when folks think of this, it is focused on overall architectural style. A Craftsman house in Cheshire, NC has a very different expression than a Tidewater Victorian home in East Beach, VA. And the Caribbean styles of Mahogany Bay, Belize are even more distinct. This is an immediate expression of who the occupants are. As you then go to the more detailed level, you may start to consider smaller elements. What type of columns are on the front porch? What color is the home? What is the front door like? All these items were either purposely selected during the design process or the home was selected based on these items. We are not proposing that architecture is the entire reason people pick where to live but we believe it plays an important part.

Why is this "expression of personality" a good thing?
When critiquing a neighborhood or a development of homes such as Bay Creek, Virginia, Beaufort, South Carolina's Historic District or I'on, South Carolina, you look for the many layers of elements that make a great "place". One can consider many different characteristics. This expression of personality is only one fine grain layer to the overall community design, but it is important. When we get to revisit a neighborhood and see that the street trees have grown in, homes have changed colors, the houses have flags and Halloween decorations and yard art installed, it tells us that the neighborhood has moved to a next level of use. It is no longer a "new place" it is now a "great place."
Your input, ideas and additional topics are always welcome, it does not hurt my feelings if you have feedback. I love to hear. It makes me a better designer and a better architect. Maybe even a better person!
Thanks for reading.
Bill Harris
Architect – Principal, Allison Ramsey Architects, Inc.
[email protected]