Embarking on the adventure of creating your dream home is an exhilarating journey, one filled with hopes, aspirations, and reflections of your personal style. However, like any profound journey, it carries with it a unique set of challenges. These obstacles, if unforeseen, can cloud the experience, impacting not just the construction process but what you're looking to build.
In this comprehensive guide, we dive deeper into the pitfalls that often entangle homeowners, shedding light on how to avoid them and navigate the path to your dream home with confidence and clarity. Whether it's the blueprint you start with or the team you assemble, every step holds decisive weight in shaping your home's future.
1. The Blueprint of Success: Avoiding Ambiguity in Planning
Ambiguous planning can lead to a multitude of challenges that may stir emotional stress and financial strain. Whether it's miscommunication with your architect or an oversight of your true needs, every unclear detail can potentially derail the construction and design process.
Strategies for Effective Communication
Initiate open dialogues with your architect from day one. Regular check-ins, active feedback, and collaborative brainstorming should be integral parts of your relationship. Construct a comprehensive brief that encompasses your lifestyle, preferences, future plans, and inspirations. This reference point keeps everyone aligned with your vision.
Pro Tip
Collaboration tools like shared digital portfolios, visual presentations, and interactive planning sessions enhance clarity and consensus in your project. There are numerous instances where clear, detailed initial plans have led to successful, smooth builds, ensuring every room aligns with the homeowner's vision and practical needs.
2. Financial Foresight: Beyond Just Numbers
When it comes to building your home, expenses extend beyond straightforward construction costs. Hidden costs, from legal fees to landscape changes, can surprise and push you off budget.
The Significance of Value Engineering
It's crucial to find a balance between your budget and the quality you desire. This process, known as value engineering, ensures you don't sacrifice essential aspects of your dream home for cost.
Planning for contingencies is vital. The unexpected doesn't have to mean unprepared.
Pro Tip
Real-life scenarios abound where budget foresight has saved projects from severe setbacks. It's not just about expecting the unexpected, but also about clear, transparent financial communication with your team.
3. Embracing the Environment: The Art of Site Analysis
Before any construction begins, an in-depth site analysis is indispensable. This involves understanding the terrain, from soil testing to studying local wind patterns and considering sustainable practices that could benefit you in the long term.
Environmental Consciousness
Embracing sustainable practices isn't only about being environmentally responsible; it can enhance your living experience and even prove cost-efficient over time. Awareness of legal and community norms is essential. Local regulations, property restrictions, and a sense of community integration can influence your home's design and functionality.
Pro Tip
Comprehensive site analysis contributes significantly to home functionality and durability. Examples include homes designed with natural light in mind, reducing energy costs, or those built with locally sourced materials, supporting sustainable practices and community businesses.
4. Assembling Your Dream Team: The Foundation of Excellence
Your design and construction team's expertise and ability to collaborate impact your journey significantly. They don't just build your home—they build your experience.
Qualities to Look For
Seek professionals known for their reliability, transparency, and a portfolio that resonates with your style.
Chemistry is invaluable. A team that understands and shares your vision will advocate for it throughout the process.
Understand your contracts. Safeguard your interests by knowing what you're signing.
Pro Tip
Numerous homeowners attribute their project's success—or failure—to the caliber of their chosen team. Ensure everyone is committed, sharing your vision and dedication to excellence.
5. Timeless over Trendy: Designing for the Future
Design trends come and go, but certain principles are enduring. The challenge lies in distinguishing between what is fleeting and what will maintain its appeal and functionality.
Personalizing Your Space
Infuse your home with personal touches, keeping in mind adaptability for future needs or changes. Consider resale value. Circumstances can change, and what appeals to you now should also be an investment for the future.
Pro Tip
Elements, like maximized natural light, efficient space utilization, and classic aesthetics, have stood the test of time. These principles not only contribute to a home's immediate appeal but also its long-standing value.
6. Function and Form: The Dance of Practicality
A beautiful home is more than its aesthetic. It's about creating spaces that enhance your lifestyle, providing comfort, and anticipating future needs.
Space Planning
Thoughtful space planning is crucial. Consider daily habits and convenience in your design. Incorporate smart technology, enhancing functionality without compromising aesthetics.
Pro Tip
Homes where beauty and practicality converge lead to lasting satisfaction. For instance, an open-plan living area with integrated smart home features can significantly enhance family interactions and entertainment capabilities.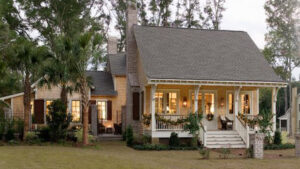 Your Journey, Our Expertise
Building your dream home is a journey of passion, resilience, and discovery. It involves not just constructing a house but creating a sanctuary that reflects your identity, values, and legacy. As you embark on this transformative venture, knowing the common pitfalls and how to navigate them confidently sets the stage for a process filled with excitement, assurance, and satisfaction.
At Allison Ramsey Architects, we pledge to be your steadfast companions, illuminating your path with our expertise, empathy, and dedicated guidance. Your dream home is within reach, and together, we'll ensure that it becomes a reality you'll cherish for a lifetime.
About Allison Ramsey Architects:
With decades of experience and a portfolio that spans an array of styles and complexities, we at Allison Ramsey Architects are more than just architects. We are your partners in envisioning and constructing a space that is uniquely yours. Our commitment goes beyond blueprints and construction sites; we delve into the very essence of what makes a house a treasured home. Let's create a legacy together.