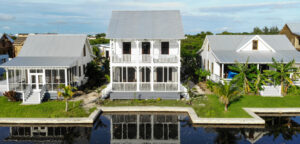 In Architecture school we are taught that every structure you design in your career will take place within surrounding conditions. It may be an urban downtown building, a beach house on the panhandle of Florida, a park structure in a town center in Oklahoma, or just a simple neighborhood cottage in the mountains of North Carolina. All the places you are designing within should influence your design choices. This is critical for good design. This environment that guides all these design decisions is referred to as context.
What design decisions?
When beginning to envision a new architectural design for a particular context there are so many characteristics a designer will consider. On the macro level there are factors such as region, climate, local traditions, history, as well as architectural and cultural precedent. On the more specific level of contextual design, input gathered from actual site is vital. Where is the site in the overall town or neighborhood? What type of structures are surrounding the property? What is the development pattern that is expected? Building or house typologies, number of stories, massing, and scale are influenced by context. What are the overall styles appropriate to locale? Rural? Urban? On the micro level the designer should include detailing appropriate for style, climate, and building type in that location.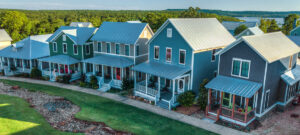 Does every building need to match?
No! The goal is not adding a new design that copies the surrounding ones. The new design should be informed by all the factors above as well as be unique and ingenious in its own way. I have seen modern designs in a historic district that pay attention to context but totally have their own aesthetic. This takes real skill. When done correctly though makes for a more diverse street, a more unique place, and a special element to a place adding variety. On the correct lot, a neighborhood of homes may be architecturally more appropriate with a properly scaled and properly designed commercial building. The added amenity of an ice cream or coffee shop is a big plus but the mix of something appropriately different produces a better neighborhood.
So, is it OK to break the rules?
Yes, but carefully – at the right times. Knowing what context is and why it is important is critical to knowing when to break the rules. Learning how to pay attention and use the context is the greatest lesson in contextual design. Even more advanced is understanding the process and all parts of context and then feeling when and how it is appropriate to mix things up. As Architects at Allison Ramsey Architects get a bit more experienced, we have learned when and where it is ok to break the rules. To do this well takes a certain finesse and certain restraint. Even when purposely breaking context, we still strive to keep within the rhythm in many other ways. For instance, currently working on a small cottage court of homes that front a neighborhood green. The last cottage is planned to be a hair salon business. This affects many items inside and only a few outside, but the style, scale, mass, and detailing still jives with the other cottages. Maybe this seems subtle, but it breaks context a bit from the expected residential spaces.
How do you know?
We are very lucky at Allison Ramsey Architects to be involved in projects of all types and in many different places around the country (and even around the world). We are a bit spoiled. I have learned a lot over the years from my partner Bill Allison, but I learned very early in my career how important it is to experience a new place, spend a couple hours walking through or driving through that area, taking hundreds of pictures and understanding the context, architypes, and styles of the local precedent. This is fun, interesting work, even if it is typically after a long day of travel and most folks would be out of gas. Architect nerds love this stuff. The few hours of study can then serve as your basis for many new designs and any work in a new area.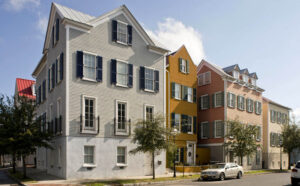 A little hypocritical?
One of our long-lasting tenants at Allison Ramsey Architects is that we want everyone to be able to have good design. We love a custom beach house project; we fight over who works on them. However, we also want the smallest, least expensive home to be equally attended to and well designed. We offer Plan Sales on our website for a small fee. These stock plans are super affordable to reach a broader audience who deserve to afford better design. We do not always get to control the context in which our plans are built, but we do try to inform and educate buyers that not every plan is right for every place. We do, however, modify our plans for new places all the time. We have taken a formally detailed Charleston sideyard home and modified it to make it right for the North Carolina mountains. We have modified many Lowcountry plans for our work in Belize as well. We have done this all over the place, again and again. We love this re-use of design to fit within the local vernacular and context.
To close, context is critical. It is a simple concept that is unfortunately often ignored. I can honestly say the best "places" I have experienced all pay attention to context and do a good job of working with it and sometimes breaking it. Most importantly, context has always been considered and it shows.
Your input, ideas and additional topics are always welcome, it does not hurt my feelings if you have feedback. I love to hear. It makes me a better designer and a better Architect. Maybe even a better person!
Thanks for reading.
Bill Harris
Architect – Principal, Allison Ramsey Architects, Inc.
[email protected]