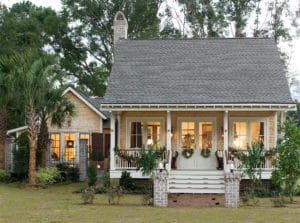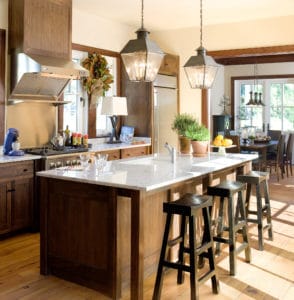 One of our most popular design features is the modern farmhouse. We have several variations of this built across the country and offer several house plans that combine a classic, traditional style with modern layouts and contemporary design. While we can personalize our house plans to suit your preferences, there are a few hallmarks to the design of our contemporary take on the classic American farmhouse, including:
Clean lines: the exterior of our modern farmhouses have a minimalist aesthetic, often featuring clean lines and simpler design choices as opposed to ornate and lavish details (making them easier and more affordable to build, while still maintaining an elegant and beautiful design)
Open design: the interior of our modern farmhouses are usually open and provide a lot of space for natural light and an easy flow from room to room. These floor plans often have large rooms, high ceilings and lack unnecessary partitions that can close off livable spaces

Natural materials: we love to include natural materials that reflect the surrounding environment in our designs. A modern farmhouse designed to be built in Oklahoma will look different than one in the mountains of western North Carolina. Our Whisper Creek Cottage in NC features a stone foundation, cedar shingles, and log columns and gables. We have over 40 variations of this house plan adapted for different locales and natural building materials
Modern touches: to add a contemporary edge, many of our modern farmhouse designs include features like metal light fixtures, exposed ductwork, and concrete floors. Take a look at this modern farmhouse we designed in the Wheeler district of Oklahoma for a good example of how well traditional design choices can complement modern amenities

Farmhouse elements: the design of our modern farmhouse features a contemporary floor plan, but the aesthetic incorporates elements of traditional farmhouse design. This includes classic design features like gabled roofs, board and batten siding, and barn doors

Are you considering a modern farmhouse? No matter where you are looking to build, we can work with you to create a comfortable, functional house plan that beautifully blends elements of both traditional and modern design.
Sincerely,
Bill Allison
#modern #farmhouse #traditional #design #contemporaryfloorplans #naturalmaterials #planmods #naturallight #barndiminiums #modernbarnhouse