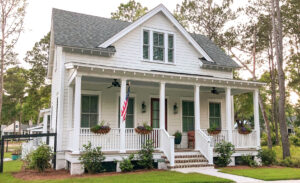 While writing the blog article about "Context is Critical" I recently had the realization that I had not shared an important philosophy that we at Allison Ramsey Architects use. It may be common knowledge in the Architecture and Planning professions, but I find myself explaining this basic principle often. It is a common occurrence for design professionals to consider planning which type of home should be on a particular lot. We may be working with a once-in-a-lifetime homeowner, a seasoned developer, or a builder, but we are often addressing the same questions. This is not a complaint, just the reality of working on these opportunities in many places, in many markets, and many different situations. There are some basics about choosing the appropriate home type for every lot in a neighborhood.
So, where do these basic principles come from?
Allison Ramsey Architects has been fortunate enough to work in many places around the country as well as abroad. We love working in new contexts and new locales. It is exciting. We give the same effort whether designing a farmhouse in the countryside of Georgia or in a New Urban neighborhood like Habersham, South Carolina, Carlton Landing, Oklahoma, Cheshire Village, North Carolina, Mahogany Bay in Belize, or the Historic District of Beaufort, South Carolina. We do love all types of places, but we are believers in New Urban Design and well known as an authority in the New Urban Design world. It really is our focus. A rural lot has its own design challenges but tighter neighborhood fabrics in traditional planning pose new concerns. When the neighborhood planner designates lots there are considerations about what "Architype" belongs on each lot. This is what is meant by each home having a responsibility to the neighborhood. When a lot is selected to build on, certain features should be included. A New Urban sales staff understands this and will educate the buyer. The town architect or the review board administrator also will understand this. Many well-planned places will have an actual regulating plan that delineates the different lot types and locations. Your architect should definitely understand and appreciate this as well!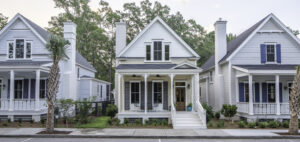 OK, OK, what are the responsibilities?
The responsibilities of each lot are simple but there are a few.
The typical neighborhood block is made up of interior lots and corner lots.

Interior lots are all about the street or front-facing façade. The sides of the lots become less important as there are typically neighboring homes within ten to twenty feet. East Beach in Norfolk Virginia is a great place to see this. There are longer blocks that keep variety but many interior lots that front the street while the sides are secondary.
Corner lots must have a well composed front elevation, but also must have an elegant side elevation since the side is exposed. Both elevations should be composed and hold enough interest as these are street front, alley front, or open to public greenspace. Sometimes a pedestrian path will also qualify a home as a corner lot. A favorite example of this for me is I'on in Charleston, South Carolina. The Charleston side-yard type is great for these conditions.

A lot that terminates a street or a vista should also have enough formality and mass to do its job. This façade must have enough visual weight to be appreciated by one who travels down the street that it terminates as well as the actual arrival at the home. It may be the front of the home, or even the side facade. A classic example that's often referenced is in small historic towns where the streets terminate with a formal downtown civic building or church.
If the vision for the neighborhood has a special street, park, or view delineated, then the homes must meet that vision. Two story porches, a certain architectural style, or even how the homes are oriented on their lots. This design intent during the planning must now be adhered to. Habersham South Carolina or Newpoint in Beaufort South Carolina do a great job of this. Habersham is full of parks and greenspaces that take advantage of significant Live Oaks. Newpoint has an amazing waterfront park that one must get out of the car to experience, inviting pedestrian traffic.
Special lot types are often part of an overall neighborhood plan. A cottage court area must follow the principles previously mentioned but do so with smaller cottage types. A row of townhomes should hold a tight relationship and front other townhomes or a greenspace across the street. A favorite example of this is Live Oak Park at East Beach in Norfolk Virginia. This is an amazing cottage court that fully engages and takes advantage of the natural topography and trees.
These are the main responsibilities we typically focus on with our site and home designs. There are others, I am sure. One thing we have learned over the years is that there are very few "always" or "nevers" in architecture. There are no magic formulas. Architecture and planning really is a subtle craft;  an art really. There are rules and codes and metrics that must be adhered to but even those shift with each location and situation. The best designers know when to color outside the lines when it is appropriate!
Your input, ideas and additional topics are always welcome, it does not hurt my feelings if you have feedback. I love to hear. It makes me a better designer and a better architect. Maybe even a better person!
Thanks for reading.
Bill Harris
Architect – Principal, Allison Ramsey Architects, Inc.
[email protected]