(Continued from What to expect)
When beginning this post about what a potential client should expect it quickly became a bit more detailed and longer than expected. It was evident that "Part Two" would be a good idea. Let's see where this goes!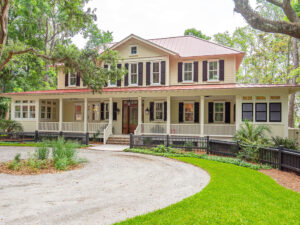 Its time to get to work.
Part One left off with a proposal being signed. To us at Allison Ramsey Architects this is an exciting event. We have listened, formulated an approach, and really tried to lay out all expectations up to this point. No matter what the project type or type of client (we work with all kinds from homeowners to builders to developers to public entities), it is a spark of excitement when we get the "we are on board" signed proposal back.
What's First?
The first step is to get all our in-office systems started – not exciting but necessary to ensure all parts of the project move along smoothly. We are not only people that draw plans, but we also need to manage a process. I won't get into the details but this is a crucial step. A few major items include:
Do we have all of the necessary documents from the owner? Survey, CAD Files, ARB Guidelines etc;
Get the project into the books and tracked by our team.
Who, from our team, will be the best match to work on this?
After the basics are in place, we typically start with simple floor plans and a site plan (if we are doing one). An initial conceptual plan set will show some big picture needs that determine how the rest of the design will flow and require a lot of questions to be answered. Does the house fit on the site as expected? Do structures orient in the right directions and connect well? Do we take advantage of any amenities or views possible? Do we approach the house from the best way possible? Are we fulfilling our responsibility to the neighborhood and the neighbors? Are all the spaces in the correct place? Once that's determined, are all spaces sized correctly? Do our proposed spaces connect to the other spaces in the best way?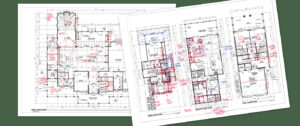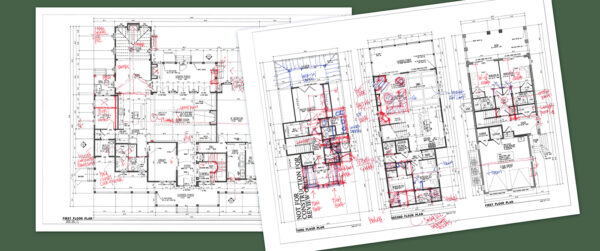 We are not only people that draw plans, but we also need to manage a process.
At this initial pass the concern is about the bigger picture. Do we have the "bones" right? It is important to know where the electrical panel may go or how tall the windows are from the kitchen countertop, but this is later. We are concerned with bigger-scale issues first. This is not to say we aren't formulating many items down the road as we work; we are always thinking and working overall massing, scale, roof concerns, aesthetics, etc., but at this point the client's focus and the feedback I want is about these overall concerns.
After getting our initial work to you it is time for some feedback. I want to hear any thoughts, comments, concerns or input I can get. The earlier in the process we work out these needs, the better. This happens in many ways these days. An email list, a scanned or digitally red marked set, a phone call or zoom meeting. We work with clients all over the country and even the world, so although welcomed, an in-office meeting is not always best. Technology helps us out a lot in our profession (there's still a lot to develop and improve but all is much faster than it was only 20 years ago!).
Ok, what about feedback and moving it towards a finished design?
This design/feedback process repeats. Every iteration throughout the designs development requires that we listen, understand, adjust, and progress. The number of times this happens depends on the size, complexity, and amount of work we are doing. The typical Allison Ramsey Architects project breaks into these design processes:
Schematic Design
Design Development
Construction Documents
We did not make these names up but have experimented to find what process is best over the last almost 30 years. All projects are different, and we will spend different amounts of time in each phase. Remember, this is personal. You are part of this process. We are creating something for you.
After the important back and forth and developing of our/your design into a solid and thought-out set, we will caution that it is time for a brief pause to get some additional feedback and input from others. This happens typically after the Schematic and Design Development phases are complete.
For a home design this is a set that contains a cover sheet with rendering and all square footage information, site layout, floor plans with dimensions, elevations with dimensions, and notes.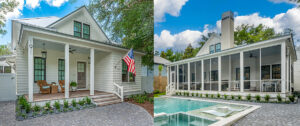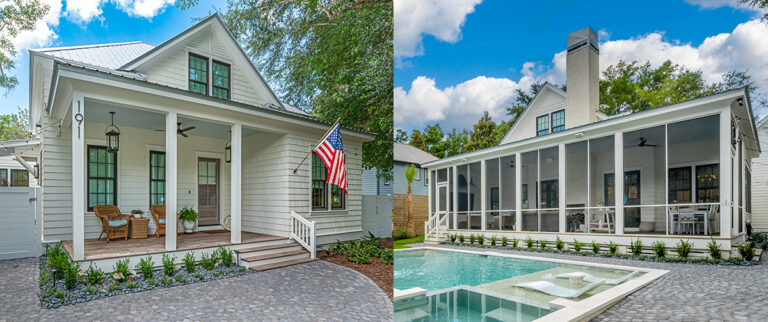 As an architect, we want to get this schematic set in front of some other eyes; people who have some impact on what we have developed and what we are proposing. At this point in the process, I feel confident that we have the owner's wishes engaged, and we have drawn something that works structurally. We are proud of where the house design is moving, but now it's time for some critical, objective input. At a minimum, it is a good time to show our new plans to builders, the bank, an ARB if you're required, and personal contacts. For builders, let's get a ballpark idea of the price to build. Be open to ideas about the current areas to save, depending on the location, the market, and current availability. Also important will be to reach out to your bank – Most folks have already had initial talks about their financing and how things work but let's be sure we are still in the same ranges discussed initially.  Many areas have an architectural review board of some kind, the dreaded ARB; are we within what is approvable? We want to be sure to follow their guidelines as well. And lastly, the family and friends of our clients are essential to making sure the client is happy. The more eyes reviewing our plans, the better. Especially by folks who know the clients and their hopes for their new house.
In asking for all this input we will caution clients that we should hear all the feedback, but it is their call on what to listen to. Let's talk about all of what you're thinking and reflecting on, and any comments that come back. Then we will decide our course of action moving forward. Reductions necessary for budget? ARB must-haves? Maybe now we can add that plunge pool?
If other consultants are planning to be involved, now is a good time as well. Interior Designers, Landscape Designers, Structural Engineers, etc. are often part of the process and will be a vital part of the completion of the design process.
In asking for all this input we will caution clients that we should hear all the feedback, but it is their call on what to listen to. Let's talk about all of what you're thinking and reflecting on, and any comments that come back.
If the client is not working with a builder already, one important take-away from all of this is getting to meet some builders, get acquainted with them individually, understand their process, see their built work, and to get an overall feel of how they and their company match up with who you are and what you feel is important. Initially, most clients are looking for the lowest price, but the majority – maybe 90% – proceed to select who they felt the most comfortable with and believe in. Th builder who will answer the phone on a Saturday when you stop by your house under construction and have a question, concern, or new idea.
Surprisingly, writing this has been very helpful to me and I hope it is helpful to you. In two blog posts we have made it from first contact to having a solid Schematic Design and now starting to see the end of the Allison Ramsey Architects process. Next post will be Part Three. Who doesn't like a good cliffhanger?
Your input, ideas and additional topics are always welcome, it does not hurt my feelings if you have feedback. I love to hear. It makes me a better designer and a better Architect. Maybe even a better person!
Thanks for reading.
Bill Harris
Allison Ramsey Architects, Inc.
[email protected]