Nestled in the charming coastal town of Beaufort, South Carolina, this 470 square-foot project is a testament to the essence of a fisherman's cottage, designed for outdoor living and communal gatherings. With one bedroom, two bunk rooms, and one bath, this project embraces the coastal lifestyle while maximizing the use of outdoor spaces.
Key features of this project include a unique design where the kitchen, living, and dining spaces are all situated outdoors. This layout encourages residents and guests to fully immerse themselves in the coastal surroundings and the inviting climate of Beaufort. It creates a seamless connection between the indoor and outdoor living spaces, allowing for open-air gatherings and the enjoyment of fresh sea breezes.
The enclosed bedrooms and bunk spaces provide comfortable sleeping quarters, ensuring restful nights for everyone. These private spaces offer a retreat from the outdoor activities and serve as cozy sanctuaries within the open-air design.
Elevated to avoid floodwaters, the ground level of this project is thoughtfully utilized as the primary outdoor party space. This area becomes the hub of social gatherings, where friends and family can come together to celebrate, share stories, and enjoy the coastal atmosphere.
Located in Beaufort, South Carolina, this project captures the essence of coastal living and communal togetherness. It is a perfect embodiment of the fisherman's cottage, designed for outdoor living and relaxation. With its unique layout, enclosed sleeping spaces, and versatile outdoor party area, it offers an extraordinary opportunity to experience the joy and camaraderie of coastal living in Beaufort.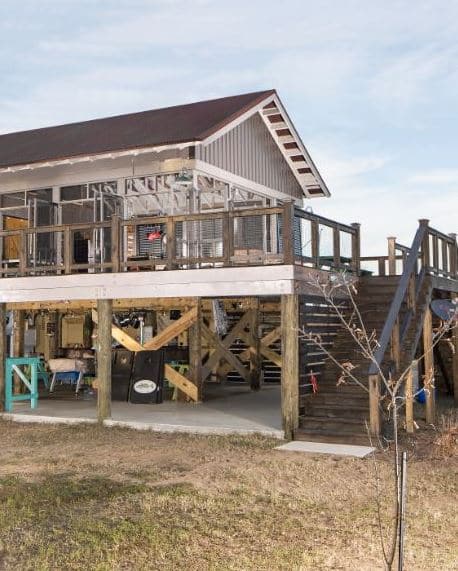 Interested in working with Allison Ramsey Architects?
Give us a good old fashioned phone call at
or fill out the form and we'll get back to you quickly!