Nestled within the exclusive Secession Golf Club community in Beaufort, South Carolina, this 4615 square foot residence is a masterful blend of Lowcountry elegance and modern luxury. Set against the backdrop of one of the region's finest golf clubs, this home is a golfer's dream and a testament to gracious living.
The elevated plan of this home not only offers panoramic views of the surrounding landscape but also provides convenient parking below, ensuring a seamless transition into the living spaces. This design exemplifies the essence of Southern hospitality, where every detail is carefully considered for comfort and convenience.
The main level of this home is dedicated to the owner's suite, which offers a private and opulent retreat. Expansive front and back porches extend the living space outdoors, providing idyllic settings for relaxation and gatherings. From these porches, you can enjoy the captivating views of the golf course and the natural beauty of the Lowcountry.
The second floor is designed to accommodate golf outings with four suites, each thoughtfully appointed to provide a comfortable and inviting space for guests. The attention to detail in the design ensures that every guest experiences the ultimate in comfort and luxury.
The classic Lowcountry exteriors of this home include Savannah grey brick, white lap siding, Charleston green shutters, and a distinctive red metal roof. These elements pay homage to the region's architectural heritage while adding timeless charm to the facade.
With six bedrooms and six and a half baths, this home offers ample space for both residents and guests, making it an ideal destination for golf enthusiasts and those seeking a retreat in the heart of the Lowcountry.
Nestled within the Secession Golf Club, this home embodies the spirit of Southern hospitality and celebrates the beauty of the golf course and the surrounding landscape. With its elevated plan, master suite on the main level, classic Lowcountry exteriors, and thoughtfully designed guest suites, it offers an extraordinary opportunity to experience the pinnacle of golf course living in Beaufort, South Carolina.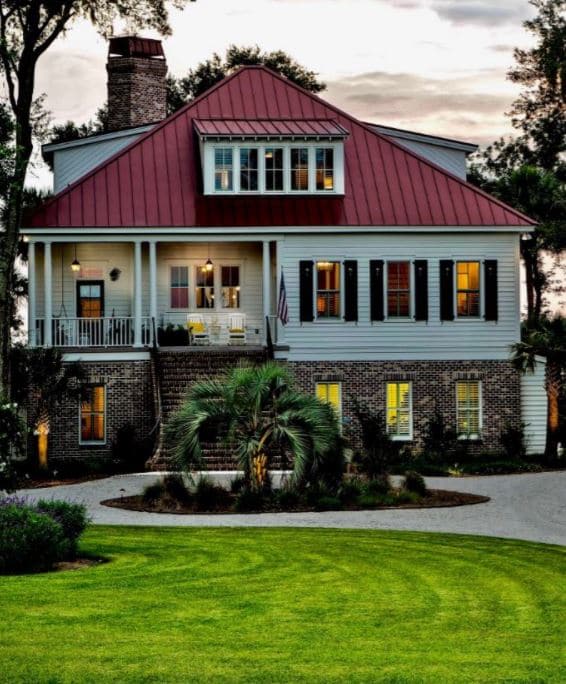 Interested in working with Allison Ramsey Architects?
Give us a good old fashioned phone call at
or fill out the form and we'll get back to you quickly!